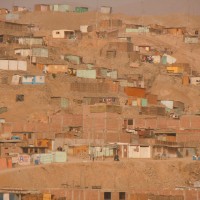 The Peru Cervical Cancer Prevention Study
This 2 Phase pilot project funded through the Merck Investigator Initiated Studies Program, represents the first project for POI in our new initiative. After years of technology based studies, we now believe the important elements of screening technologies are solved.  Of course more progress will be made but at this moment the big problem is that no one has figured out how to get the technology that now exists to the people who need access the most.  We will therefore begin in Peru to develop a preventive health care model, using cervical cancer screening and vaccination as the health intervention: "A mother, child, screen, treat, and vaccinate program for Manchay and Iquitos Peru. Using a Community Based Participatory Research orientation we hope to shift primary screening and vaccination from the medical model to the community where they will advertise, recruit, educate, register, screen, and report results all independent from healthcare professionals. We hope to design systems to eventually reach 5000-10,000 women/day.
As of this writing (2/9/2012) we have successfully completed the Manchay pilot study as well as 2/3 vaccinations and the 6 month follow-up. In Iquitos also the pilot study, and 2/3 vaccinations with the 6 month follow-up scheduled for the 13-14 of April. Manuscripts are in preparation. The hope is that funding can be obtained to expand to the 116,000 women between 30-60 in the Loreto region as well as expanding in Manchay. At the moment the most important outcome of PERCAPS related to the overall project goals are the insights gained that allowed tremendous growth of our model in China. (see CHICAPS)
Photos
Please click on any image to zoom, then use < > or arrow keys to navigate.