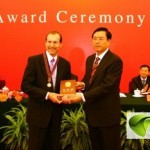 Renowned Clinician and Researcher Jerome L. Belinson, M.D., receives China's highest honor for foreign experts. He was recognized for his cancer detection and prevention efforts in rural china
Jerome L. Belinson, M.D., professor of surgery in Cleveland Clinic Lerner College of Medicine and founding director of Preventive Oncology International , Inc. (POI), received the prestigious Friendship Award today from the People's Republic of China. C hinese Vice Premier Zhang Dejiang recognized Dr. Belinson in a ceremony during this year's National Day celebrations in Beijing.
The Friendship Award, established in 1991, is China's highest award given to a foreign expert who has made outstanding contributions to China's economic and social progress.
For more than 14 years, Dr. Belinson has worked to bring gynecologic cancer screening integrated with clinical trials to rural China, an area of the world with a high prevalence of female cancers. Through his efforts and the work of his POI colleagues, almost 40,000 women who participated in the studies received screening for cervical cancer, often for the only time in their lives. Dr. Belinson and his team have been recognized for their careful adherence to human values and the proper conduct of studies involving human subjects in the Third World.
"After more than 30 years in the full-time practice of gynecologic oncology, my work in China has been the highlight of my professional life," said Dr. Belinson. "Our mission is far from done, and it is my sincere hope that this award will draw attention to the continuing need for support for our efforts."
Dr. Belinson's initial study, The Shanxi Province Cervical Cancer Screening Study (SPOCCS I), continues to serve as a model for study design in epidemiology courses around the world. SPOCCS II and SPOCCS III have also been completed, providing data on self-sampling technologies, a better understanding of false negative and false positive visual screening and diagnostic tests, and the epidemiology of the HPV virus in China.
In addition to the multiple scientific contributions, the SPOCCS studies have also resulted in the 1 st approval of liquid based cytology and HPV testing in China, numerous educational sessions and international exchanges for Chinese physicians. The Chinese collaborators who began their work with Dr. Belinson have now established a cervical cancer consortium throughout China, and they have developed collaborations between Chinese researchers and the World Health Organization and the Gates Foundation.
"Cleveland Clinic is proud to be able to call Dr. Belinson one of our own. His work has brought valuable gynecologic cancer detection and prevention information and services to women in a part of the world where there is a tremendous need for care," said Joseph Hahn, M.D., Chief of Staff at Cleveland Clinic. "Through his efforts, Dr. Belinson has also opened the door for clinicians both here and around the world to take an active role in public health initiatives that will have a lasting impact on women's health."
In addition to expanding his work into other regions of China and exploring preventive strategies for other types of cancers, Dr. Belinson is currently initiating large projects in the Peruvian jungle. He will also be bringing his research skills back to Northeast Ohio for a project in East Cleveland designed to study cancer prevention strategies in underserved populations.
Dr. Belinson is the former chair of the Department of Obstetrics and Gynecology and is currently a consultant to the Department and the OB/GYN & Women's Health Institute at Cleveland Clinic. He is the founding director of Preventive Oncology International, Inc., a research organization that blends humanitarian work with investigative science.